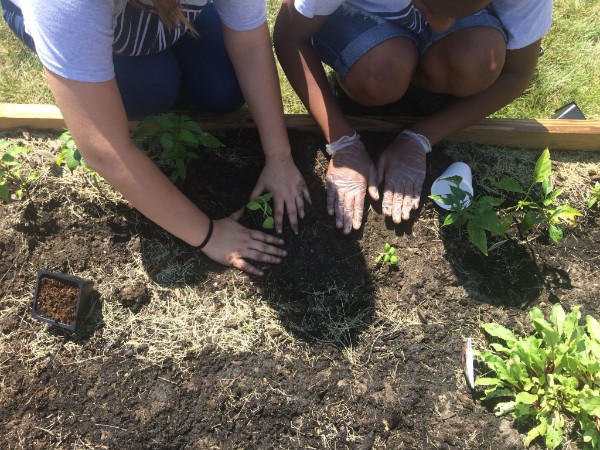 Parallel paths of growth and recovery
Katie Hart, a food educator with Local Matters, explains that in Local Matters' classes with Maryhaven, lessons focus on reinforcing a few different values: ownership, patience, problem solving, and celebration.
At the start of the summer, Local Matters food educators sat down with their Maryhaven class. The cohort was made of up women in recovery, all working on finding their paths to sustainable independence. The first task for this class was to decide what they wanted to plant.

After deciding what vegetables, fruit, and flowers to grow, the women were encouraged to establish personal goals to work on throughout the program. The goals varied from person to person, with some as straightforward as 'I would love to create a salsa garden,' and some were more complex like, 'I would really like to cultivate patience within myself.'
A few weeks into the program, the class was out in the garden. The women were dismayed that the tomato plants were falling down, unable to support their own weight. The food educators encouraged them to think about what the plants might need to flourish. 'Well, they need support.' Exactly. The same is true for us: sometimes in life, there are things too heavy to carry by ourselves. We need support from those around us.

Then, they noticed that some of the greens were being eaten by insects. 'We need to create a barrier to prevent the plants from being harmed by pests.' Yes - like marigolds! We, too, have things in our life that threaten or farm us. So, what types of external help can we establish to act like marigolds and keep those things away?

The food educators and the women thought about these questions and how they might simultaneously overcome problems in the garden and in their lives.
Our work with Maryhaven this summer, as well as the lessons and growth shared with these women in recovery, is possible because of your support. Thank you.